theatre critique by Lumi Martin
I recently had the pleasure to be invited by The Torch Theatre in Milford Haven, Pembrokeshire, to the Press/VIP premiere of its latest production, "Carwyn".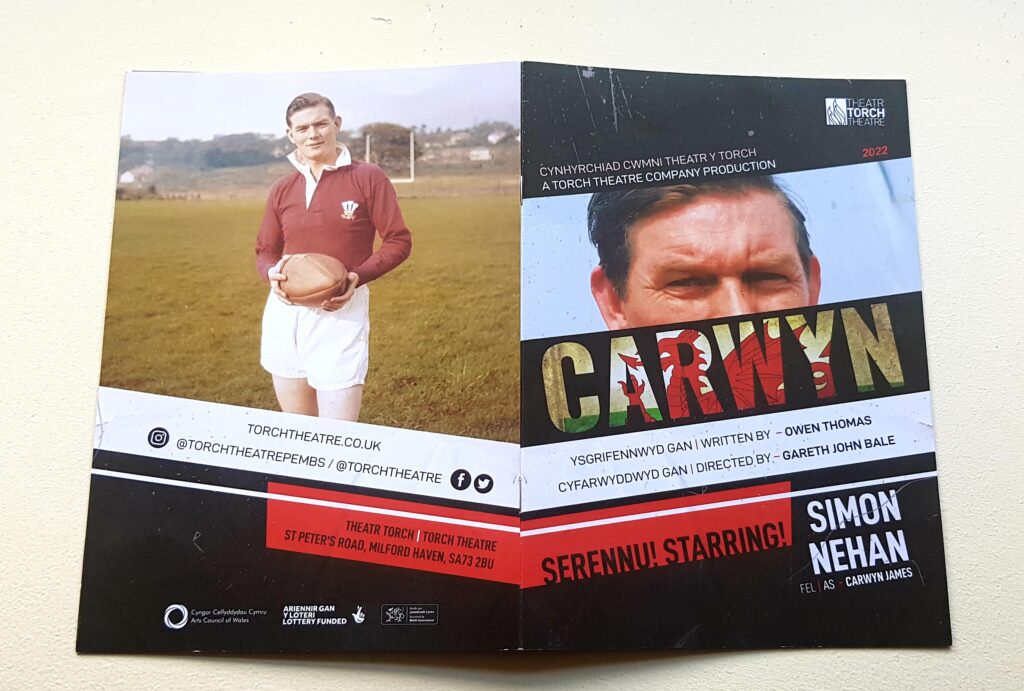 A powerful yet mysterious, controversial figure in Welsh modern history, Carwyn James was equally acclaimed as a sportsman and politician, and underappreciated and misunderstood for his personal choices and trials.
The play has been in the making for some time – Carwyn's story was first commissioned to Peter Doran, the theatre's Artistic Director, who then handed it over to the gifted writer Owen Thomas.
The play, a monologue beautifully brought to life by the actor Simon Nehan, tells the story of this charismatic man, who achieved so much for so many during the course of his relatively short life.
The direction took flight under Gareth J Bale's exceptional approach to the story. Under his management, the team succeeded in portraying with warmth, dignity and reverence the life of labour in the service of his countrymen that Carwyn undertook, both as a legendary rugby figure and a dedicated politician.
Throughout the performance, the audience seemed to take to the creative stage design signed by the young talented Tegan Reg James, and the inspired, innovative lighting and projection works managed by Ceri James.
With the script written mainly in English, but gliding occasionally into Welsh-spoken parts, the play directed by Gareth J Bale gave the audience a rich theatrical experience, connecting to the truths of a life lived both in the limelight and in the fringes of an assumed solitude.
Owen Thomas' writing took the public through a journey of tragic brilliance, interspersed with humorous references, nostalgic lookbacks, solitary emotions and camaraderie-charged repartees.
Simon Nehan's acting tour de force created moments of indelible poetry and intensity, as well as light, heart-warming comedy savoured by the audience. The extraordinary singing moment showcased Simon's multi-talented professional makeup and complemented the play's emotional charge.
The Torch Theatre in Pembrokeshire, lovingly managed by Benjamin Lloyd for a few years now, proved once again that no job is too small when it comes to telling relevant stories. Welsh history lives through the powerful deeds of its heroes, and the legacy of people such as Carwyn James ought to be better known and honoured.